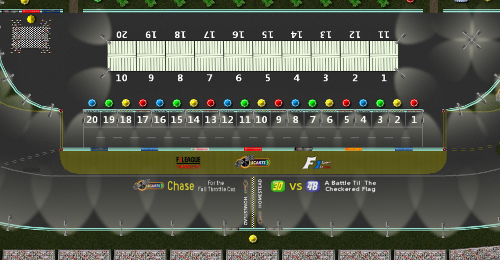 Do you recall the 2011 NASCAR Sprint Cup Series championship battle? Tony vs. Carl? Well, we have the exact same situation here in Full Throttle Cup.
Burnout began the Chase winning the first four races of the Chase and entering himself into the title picture. But since then, Lanz broke through with two wins and JonnO won the most recent race at Phoenix, knocking Burnout out of the title picture now that drops are occuring.
So it's down to the early season Lanz/JonnO fight at the NEW Homestead-Miami Speedway. Lanz enters this race with a 1 point advantage over JonnO even with JonnO's win last week. Phoenix was a drop race, so JonnO only gained one point on Lanz overall. Unfortunately, Lanz still lost ground on JonnO dropping his worst finish of the Chase.
In the current situation, Lanz's next worst drop is a 19 point 4th place run at Auto Club Speedway and JonnO's drop will be an 18 point 5th place run at Tsukuba Circuit. Now, with a one point seperation between the two drivers (Lanz leader, JonnO -1), the simple fact is that whichever driver wins the race, that driver wins the championship. It's THAT close. So if JonnO wins with no lap led bonuses, that victory is a 22 point effort, an improvement of 4 points over his 18 point run at Tsukuba. The best Lanz could do is run 2nd with most laps led, worth up to 21 points and only a +2 gain from his 19 point run. JonnO would then win title by a point.
Now Lanz does hold a point advantage and win tiebreaker advantage should neither of the two win Homestead, so that puts more pressure on JonnO to gain as many points as possible to get ahead of Lanz in points. Not to mention, Lanz is undefeated at the old Homestead! A tie would not cut it - Lanz has six victories, JonnO would have four. JonnO would need to earn at the very least, 20 points, to leap frog Lanz in the standings if Lanz can not improve on his 19 point effort.
So to summarize, here are the Full Throttle Cup championship clinch scenarios for Homestead-Miami:
Lanz:
- Win the race (bonuses unnecessary)
- Finish 2nd with at least one bonus IF JonnO doesn't win
- JonnO finishes 4th or worse
- JonnO finishes 3rd or worse with one bonus or no bonus
JonnO:
- Win the race (bonuses unnecessary)
- Finish 2nd with two bonuses - Lanz scores 20 points or less
- Finish 2nd with one bonus - Lanz scores 19 points or less
- Finish 3rd with two bonuses - Lanz scores 19 points or less
It's going to be a huge battle, we hope to see you all there to witness SCARTS history! It could be a repeat of Season 2 where the championship isn't determined until the final lap!
RACE #24 @ HOMESTEAD-MIAMI PREVIEW
==================================
When: Wednesday, November 7th @ 5pm ET
Race Length: 234 laps (350 miles)
2011 Winner (Old Track): Lanz
I changed the laps from 208 to 234 (350 miles)
Last edited by Burnout on Tue Nov 06, 2012 7:46 pm; edited 7 times in total