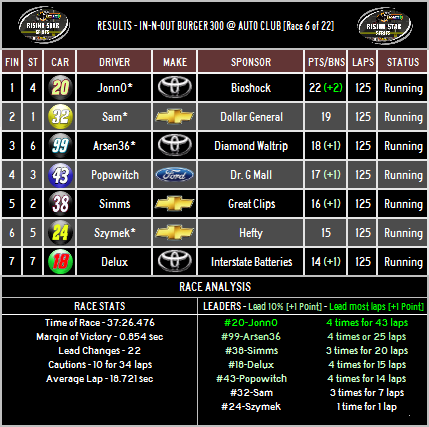 - Cheers Lanz for hosting after my internet/pc crashed.. hopefully there's no problems sunday, otherwise Burnouts server will be the venue. I will be around to test the server at about 9GMT Sunday evening.
- Was a fun race to watch, especially in that long green flag run between lap 73-100 with all the lead changes.. 3/4 wide racing was great to see. A few more cautions than I was expecting after been told this was a "clean" race, but seems there were a few called for single car crashes.. its no problem Lanz as I guess you weren't zoomed out fully, but remember if someone makes a mistake on their own, they have to live with it

You did a good job, try to not open the pits if the field is right in front of it.. but overall great job, good call on the drive thru for Szy too.
- Which brings me to..
Message: <#20 JonnO> Yeah was fast race
Message: <#20 JonnO> yellows were quick
Message: <#32 Sam> it did seem really short
Message:
well i hope i was good as race control
Message: <#20 JonnO> shy usually spends 10mins talking during yel's
Message: <#32 Sam> yeh lanz you were really good as SC
Message: <#20 JonnO> but we got to grid and restarted instantly
Message: totes true jonno
Message: <#20 JonnO> good job, i finished with 11% fuel
Message: <#99 arsen36> repairing cars was so fast
Message: <#20 JonnO> with Shy SC i wouldnt have made the finish



Rude!! It's only because I'm waiting for idiots to get laps back that causes cautions to go on for so long.. so if it's efficiency under caution you want, blame the players