BURNOUT TAKES THE WIN AT TSUKUBA
Burnout took his second win of the year in the Japanese circuit of Tsukuba, after another epic battle for the win took place, this time involving Burnout and Lanz.
The purpose of the Turbocharged Series is to test new tracks, cars, rules and methods of running races in preparation for the next full season of SCARTS racing, in this case the 2012 Full Throttle Cup/Rising Star seasons, and that is exactly what is being done with the test method of qualifying. For the oval races so far (Daytona and Auto Club), the old method of single car (one car goes at a time for 2 laps), ghost off qualifying has being used. This is used to avoid distractions from other cars, and to allow an exciting session where the fastest in practice go last, so the pressure is really on for the fight for pole position! However, at the road course races so far (Mexico City and now Tsukuba), a method new to SCARTS has been used, ghost is turned on, and 4-6 laps (depending on track lengths) are given to drivers in order to set their best time. The advantages of this method are more practice time for drivers, more representative laps and a more efficient and quicker qualifying session. The problem of drivers being distracted is not at large, as laps are longer at road courses.
Burnout claimed his first pole position of the series in his #9 Stanley Ford, after he started second at the same track in the 2011 Rising Star Series race, a race which he went on to win. Dede put his #20 Italian Toyota on the front row with him, an incredible result after no practice time at the track. Delux continued his good qualifying at road courses, putting his #18 M&M's Toyota in third position to start the race. Lanz had his worst qualifying of the series so far, qualifying his #46 Cash America Super Pawn Chevrolet fourth.
The start was chaotic, Delux had problems coming to the green flag and lost a few positions, Dede got punted wide at Turn 1 by a chain reaction of everyone braking too late for the corner, and then a large five car incident occured in Turn 2, involving Charters #29 Budweiser Chevrolet, Jeremy's #1 Target Chevrolet, Popowitch's #42 Target Chevrolet, Lexx's #17 Crown Royal Ford and Delux's #18 M&M's Toyota all off the racetrack. Simms passed all these cars, but subsequently made a mistake and crashed his #24 Pepsi Max Chevrolet hard in Turn 3.
Meanwhile at the front, Burnout had taken the lead from the pole position, and a breakaway pack was soon forming, of Burnout, Lanz and Domotec. Lanz and Burnout battled through the early laps, Lanz taking the lead on Lap 4 with an excellent crossover pass in turn 2, and immediately began to pull a gap. However, on Lap 10, Lanz went wide out of the final corner, allowing Burnout to catch and pass for the lead. However, Lanz stuck close and managed to pass Burnout once more in Turn 5 on the very next lap. They continued to battle for the next few laps, and on Lap 13 the first pitstops began. Burnout came in first, and Lanz immediately reacted the next lap. They came out right near to Lexx and Popo, who were having a hard battle for what was now 2nd place. However, they soon pitted, and the order was restored.
On lap 17, race control started to watch Jeremy closely, after a large crash on the front straight which nearly required the first YEL of the race. However, the race stayed green for some more laps, and during this time Jeremy was given repeated warnings to let lapping cars past, but ignored them. The pace car was brought out for a large 3 car crash on the frontstraight on lap 25, when Simms and Charter were battling hard, both went wide off the final corner, and Popo, who couldn't slow down in time or avoid the crash, hit them, resulting in Simms careering his #24 Pepsi Max Chevrolet into the inside wall. This gave race control a chance to black flag Jeremy from the race.
Dede was in the pits when the caution came out, and because the field is frozen when the caution comes out, he was allowed to make a normal pitstop for full tyres and as much fuel as he wanted, and then pass the pace car and take up position at the back of the line. However, when all the cars pitted, he did not need to, and inherited the lead with his #20 Italian Toyota. He lead the lap 27 restart, however he made a mistake that several others were making at the end of the lap, running wide off the final corner, allowed Burnout to take the lead.
Burnout kept this lead until a second caution just before the bonus for leading the halfway lap was to be awarded, this time for problems from race control. Shyguy, who drives the pace car, was having issues seeing the race track and all the computers at race control had to be restarted. A short red flag was called on Lap 36, and the race resumed under caution with the pits open. During the period of pacing, Lexx suffered issues with his windscreen, claiming he was seeing triple, and had to retire from the race. Dede showed his SCARTS inexperience when Burnout tricked him, making a dummy that he wasn't pitting, and swerving into the pits at the last moment. Dede however, had missed the pitlane, which meant he took the lead once more under the caution, but this time he was on old tyres with much less fuel than everyone else.
Dede made another great restart on lap 37, alongside Simms, who also stayed out in an attempt to take the halfway points bonus on lap 38. Dede held on to take it, and an exciting battle happened on lap 40. The lap before, Burnout had got on the inside of Dede into the final corner, and had the inside for the first turn, taking the lead for a brief moment before running wide on the exit, allowing both Dede and Lanz to pass. However, Lanz made a suprise move on Dede into Turn 2, and took the lead!
Green flag pitstops began on lap 45, when Dede who had less fuel than the other leaders pitted. An interesting situation with Burnout and Lanz arose on this lap, Burnout hit Lanz off the racetrack, and obeying the gentlemans rules, waited for him. However, Lanz took a lot of time getting back up to speed after the crash, and the pair both lost a lot of time.
On Lap 49, Burnout came into the pits, and on lap 50, Lanz pitted, giving the lead to Delux for one lap before he pitted. Popowitch however, tried to make one more lap, which cost him dearly as he ran out of fuel off of Turn 5 and had to crawl all the way back to the pits.
For the next 15 laps, Burnout followed Lanz, staying within a second almost the whole time. On lap 61, Lanz made a mistake, allowing Burnout to close more. The fuel was very close for the leaders on whether they could make it all the way to end from the lap 49-51 pitstops, however Dede, who had to pit on lap 45 last time could not make it to the end, pitted on lap 64 for the final time. Meanwhile Burnout was edging closer and closer to Lanz at the front, and on lap 67 pulled the pass for the lead with a suprise dive up the inside in Turn 5. The very same lap, Lanz reacted by immediately pulled to the pits, rather than risk running out of fuel. He came out quite a large way in front of Dede in 3rd place, mainly because he only took 2 tyres (the SCARTS term for taking tyres only to around half, as in SCARTS, tyre refill is twice as long as fuel refill to promote strategies like this).
The next lap, lap 69, Burnout reacted and pitted, rather than risk being on old tyres in case of a late race caution, losing out to Lanz on old tyres, or running out of fuel. He also only took 2 tyres, and came out with a reasonable lead over Lanz, with Dede in third, closing on the two with his full tyres from the pitstop (although they had worn since lap 64), but not fast enough to overtake without a late race caution.
It looked like this caution might come for a brief second, when on Lap 70 Popowitch, coming back after his fuel mistake, pushed Charter wide off Turn 1, however Charter managed to keep his car moving and the pace car was not required. Popowitch did recieve a warning for his actions however, something that wouldn't of happened if he had waited for Charter. Since he did make a large amount of time over the final 5 laps however, a penalty may of being harsh, but he must make sure not to do something similar in the upcoming races!
Meanwhile, while the battle up front settled down, Delux in his #18 M&M's Toyota and Domotec in his #99 Aflac Ford were having an excellent battle for 4th place, both of them having enough fuel to make it to the end after their Lap 50-51 pitstops. Simms and Popo, who had both made more recent pitstops, rather clumsily unlapped themselves from them, an incident which race control investigated, but deemed not large enough to penalise.
Back up front, Lanz had caught Burnout to back within a second, however the lapped car of Charter in his #29 Budweiser Chevrolet gave way to Burnout on the inside of Turn 1, and when Lanz tried to follow, he hit him, a racing incident but one that cost Lanz any real chance at pressuring Burnout further over the final two laps for the win. So Burnout drove clean and steady to take his second win of the Turbocharged Series, from the 2.5 Mile Oval at Daytona, to the 1.3 Mile Road course at Tsukuba! This was the second time he won at the track.
Meanwhile, Domotec proved that Lanz and Burnout were both correct to pit again for new tyres over lap 68-69, when he ran out of fuel on the final lap, effectively ending his battle with Delux, although Delux had already pulled a gap anyway. Still a great top 5 finish for him, on the lead lap. Although Burnout had claimed the win, Lanz had lead the most laps, meaning the championship is still very close between the pair of them (when drops are included). Dede also lead the halfway bonus point, in his attempt to claim the road course cup.
RESULTS
Qualifying Results
1. Burnout 27.952
2. Dede 28.470
3. Delux 28.557
4. Lanz 28.575
5. Popowitch 28.592
6. Lexx 28.647
7. Domotec 28.810
8. Derek 28.833
9. Jeremy 30.002
10. Simms 3:12.354
11. Charter Joined Late
Race Results
1. #9 Burnout 75/75 Laps Lead: 5 times for 22 laps
2. #46 Lanz +3.237 Laps Lead: 4 times for 46 laps
3. #20 Dede +6.676 Laps Lead: 2 times for 6 laps
4. #18 Delux +22.004 Laps Lead: 1 time for 1 lap
5. #99 Domotec +47.041 Laps Lead: Did not lead a lap
6. #42 Popowitch 74/75 Laps Lead: Did not lead a lap
7. #24 Simms 73/75 Laps Lead: Did not lead a lap
8. #29 Charter 73/75 Laps Lead: Did not lead a lap
9. #14 DerekE 73/75 Laps Lead: Did not lead a lap
10. #17 Lexx 35/75 Laps Lead: Did not lead a lap
11. #1 Jeremy 23/75 Laps Lead: Did not lead a lap
Most Laps Lead: Lanz
Halfway Leader: Dede
Lap Leader Summary
1-3 Burnout (3)
4-9 Lanz (6)
10 Burnout (1)
11-25 Lanz (15)
26-27 Dede (2)
28-35 Burnout (8 )
36-39 Dede (4)
40 Burnout (1)
41-50 Lanz (10)
51 Delux (1)
52-66 Lanz (15)
67-75 Burnout (22)
Lead Changes: 11
Caution Summary
2 Cautions for 5 laps
1. Lap 25-27 Large crash on the frontstretch involving Charter, Simms, Popo
2. Lap 36-37 Race control problems - short red flag Lap 36
Standings After Race: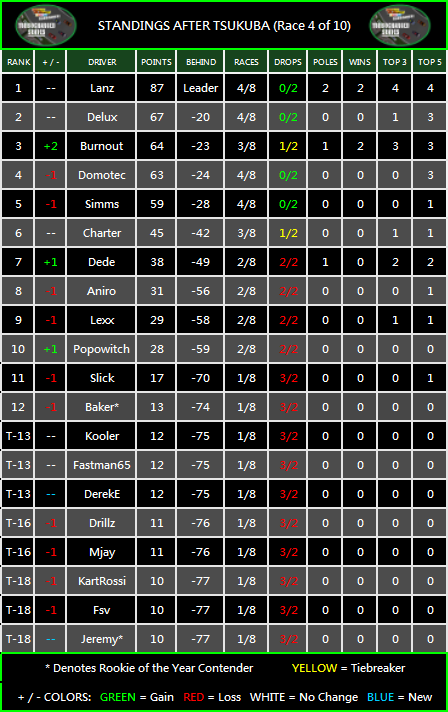 Photo Story
The cars prepare for the start of the race
It was a chaotic one, Dede #20 was punted wide at Turn 1
Followed by an even larger crash, with Charter #29, Lexx #17, Jeremy #1, Popowitch #42 and Delux #18 in Turn 2
Lanz #46 passed Burnout #9 for the lead on lap 4, while Domotec #99 hunts them in 3rd
Lanz #46 went wide on lap 10 out of the final corner, allowing Burnout #9 to retake the lead
Lanz #46 immediately caught back up, and repassed him, showing his early pace
Jeremy #1 was watched by race control after this crash with Charter #29 nearly resulted in the first caution
The first caution did fly on Lap 25 for a 3 car crash between Charter #29, Simms #24 and Popo #42, while Dede #20 was in the pits
Lanz #46 leads the field behind the pace car under caution
Dede #20 stays out while the rest pit under caution, because he was in the pits when the caution came out anyway
Dede #20 leads the field to the restart on lap 28
A lap later, Dede #20 goes wide out of the final corner, allowing Burnout #9 to retake the lead
Dede #20 stays out once more under the second caution, this time for problems at race control
The field sits on the grid under red flag conditions as they wait for the problem to be solved
Dede #20 once more leads the field to the restart, he would hold on to take the halfway bonus
Burnout #9 passes Dede for the lead on lap 40
However, he made a mistake on the very next lap, allowing Lanz #46 and Dede #20 to battle for the lead
No more cautions followed, and for the entirety of the second half of the race, Lanz #46 lead Burnout #9 by a small margin
Burnout #9 pulls a suprise move on Lanz #46 into Turn 5
Lanz #46 reacts by pitting immediately
Domotec #99 and Delux #18 had a great battle for fourth place over the closing laps
But it was Burnouts day, winning for the second time in the Turbocharged Series, and for the second time at Tsukuba!
Last edited by Shyguy on Wed Dec 21, 2011 9:55 am; edited 2 times in total