LANZ WINS AGAIN IN CALIFORNIA
Lanz won another closely fought duel over the final laps of a long final green flag run, this time on the 2 mile oval Auto Club Speedway in California, his fight being with Lexx.
Practice revealed a surprisingly fast competitor in Mjay, who went fastest and got himself the advantage of being last to qualify in his #33 Cheerios Chevrolet, however it did not go by without controversy as he blocked Lexx's fast lap, angering the driver of the #17 Crown Royal Ford.
Single car qualifying produced an interesting and exciting session, as Simms paced the early runners in his #24 Dupont Chevrolet with his lap of 12.532. Delux went faster by 0.098 of a second with his #18 Combos Toyota, then Burnout immediately after put in a lap of 12.173 to gain the provisional pole for his #9 Stanley Tools Ford. Lexx then had a poor qualifying, using far too much of the flat apron in the turns as opposed to the banking further to the outside, but then it was the turn of "polemeister" Lanz to qualify his #46 Cash America Super Pawn Chevrolet, and he set a stunning 12.068 lap which Mjay could not better to take his second pole position of the mini-series. This meant he has started on the front row for all of the races so far.
He took the lead on the start of the race until an early caution at lap 10 set the tone for a race of 2 halves, the first half being caution/crash filled, the second half a closely fought battle for the lead, relatively uninterrupted by visits to the track from the pace car. Fsv, suffering issues with his #16 3M Ford caused the first caution, which gave Delux the chance to stay out at the pitstops and take the lead, which he kept until the second caution at lap 18, where Mjay pushed Lexx into the wall off Turn 2, causing more tension between the pair after their incident in practice.
The ensuing caution allowed Burnout to stay out while those in front of him pitted, and he took the lead until Lexx took it off him on lap 25. A few laps later, Mjay made an illegal pass for the lead, using the grass on the inside of the apron to allow his #33 Cheerios Chevrolet to turn better in the corner which had being stated as illegal before the race, but Lexx quickly regained it and the laps Mjay lead were taken away after the race.
Mjay then continued his bad start when he was involved in the third caution on lap 31, when he crashed with Burnout hard in turn 2. Aniro did not pit his #27 Menards Chevrolet under the caution to lead laps 33 and 34 behind the pace car, but Lanz quickly passed him on the restart and pulled away until lap 39, where Aniro crashed heavily into the backstretch wall, blocking the track and causing the fourth caution within 40 laps.
Simms did not pit his #24 Dupont Chevrolet to take the lead for the restart, he held on for a few laps but was soon crashed out of the lead by Mjay, continuing his run of poor form. Lanz inherited the lead and kept it when Aniro was involved in another caution on lap 43, this time for a crash with Burnout which seemed like a racing incident but left Burnout backwards on the track, necessitation a deployment of the pace car in order to slow the pack down and avoid a large crash. Lexx this time chose not to pit under the caution and took the lead for the restart on lap 46, however Lanz soon claimed it back on lap 48 when Lexx crashed on the backstretch. The race went caution free until lap 67, when Aniro was involved in the third caution in a row for a spin off Turn 4, resulting in him being sideways blocking the track. All the cars came down to pitroad when the pits were opened, as their tyres had worn out over the slightly longer green flag run, and Delux's #18 Combos Pitcrew did a great job, delivering a fast pitstop to put him in the lead.
Delux immediately lost the lead when Lanz made a strong restart from second place on lap 69, however Lanz made a mistake on lap 73 in Turns 1 and 2 and Delux took the lead back. This set up a hard fought battle between Burnout and Delux to lead the race, Burnout just managing to lead over the line at lap 76, as the pair swapped the lead all the way up to lap 90, where the seventh caution in the first half of the race was called for a large crash between Domotec and Aniro's car, once again involved in a caution, who he was lapping. This caution was timely for Delux as he had just pitted for fuel and tyres under the green flag, meaning he did not have to pit when pitroad was opened and retook the lead of the race from Burnout, continuing their swapping of the lead. Burnout took the lead back once more on lap 93 when Delux made a mistake, however Lanz made an epic 3 wide move on the outside to once again take the lead in his #46 Cash America Super Pawn Chevrolet on lap 102, but too late to claim the points bonus for leading halfway, which went to Burnout.
Lexx began to suffer from connection problems at this stage of the race, resulting in two more periods behind the pace car on laps 103-105 and 108-110 as his car blocked the track. Burnout managed to take the lead on the first of these cautions with a faster pitstop, and the chaotic restart that ensued resulted in Mjay taking the lead, followed by Lanz reclaiming it, crashing Mjay into the frontstretch wall, perhaps on purpose as payback for Mjay crashing him earlier in the race. Lanz did not make the same mistake again, going fast onto pitroad under the caution and working hard to keep the lead against Delux on the restart. The first half of the race, filled with cautions, was over, with 9 cautions in the first 110 laps and only 1 in the last 90.
Lanz crashed at the end of lap 113, resulting in a crazy 4 abreast situation as Delux, Burnout and Fastman behind reacted to the crash, and Fastman lead in his #88 National Guard Chevrolet for the first time. He kept the lead for 3 laps, hitting the wall in exactly the same place as Lanz, resulting in Delux taking the lead. Burnout lead lap 124, when he used the lapped car of Aniro to take the lead on the outside of Delux, and Lanz made it 3 wide one lap later to take the lead on lap 125. His lead was short lived however, as Lexx continued the epic battle, taking the lead for lap 128 with a 4 wide move. Delux reclaimed the lead on the next lap, as the battle was unfortunately broken up when Aniro caused a crash while being lapped again, resulting in the leaders going back to single file racing. Delux lead through a cycle of green flag pitstops up to lap 142, where he suffered understeer/push off Turn 2 and hit the backstretch wall, allowing Burnout, who had being following closley for several laps, to inherit the lead. Lanz had pitted extra early for new tyres, and he retook the lead from Burnout with a strong move, and pulled away until a caution on Lap 160 for two separate incidents, Mjay divebombing cars that were lapping him, and Burnout subsequently being distracted and hitting the backstretch wall hard.
Lexx took his #17 Crown Royal Ford to an incredible restart on lap 161, going 3 wide on the apron and claiming the lead. This set up an epic battle between Lexx and Lanz for the win, that would last almost the duration of the last 40 laps. Lexx made a small mistake on lap 164 allowing Delux to pass for the lead, and Lanz to pass him into 2nd. However, on lap 170, Delux crashed, blocking Lanz who he had to let past, resulting in Lexx going from 3rd to 1st in a few seconds. Delux then fell off of Lanz and Delux's pace, as Burnout pitted for new tyres to try and make up ground on Lanz, Delux and Lexx, who were not going to pit again before the end of the race. Burnout managed to make his way up to third, past Delux by the end of the race, but the real battle was up front. Lexx made a small mistake on lap 173, allowing Lanz to take the lead until lap 182, where Lexx had managed to catch and catch Lanz slowly but surely, and he retook the lead with a hard outbraking manoeuvre into Turn 1. He kept the lead for 2 laps, until he then made a mistake out of Turn 2, hitting the backstretch wall, blocking Lanz, meaning he let him past to obey the gentleman rules. Lexx continued to chase Lanz closely for the next ten laps, but on lap 195, while less then a carlength behind Lanz, he made a uncharacteristic mistake, hitting the wall once again off Turn 2, trying too hard to chase him.
This allowed Lanz to hold on and win his second race in a row, from the pole after leading nearly 50% of the laps, claiming the bonus point for leading the most laps. Lexx finished just over a second behind Lanz after their epic battle over the last laps, and Burnout completed the podium after his pitstop strategy worked to a degree, finishing 5 seconds off the pace. Fsv, Mjay, Fastman and Baker all retired from the race.
RESULTS
Qualifying Order (Reverse Practice Speed)
Aniro
Liam Baker
Fastman
Simms
Domotec
Fsv
Delux
Burnout
Lexx
Lanz
Mjay
Qualifying Results
Lanz 12.068
Burnout 12.173
Mjay 12.418
Delux 12.434
Simms 12.532
Domotec 12.629
Fsv 12.646
Liam Baker 12.751
Lexx 13.342
Fastman 13.547
Aniro 14.345
Race Results
#46 Lanz 200/200 Laps Lead: 11 times for 97 laps
#17 Lexx +1.267 Laps Lead: 6 times for 19 laps
#9 Burnout +5.225 Laps Lead: 7 times for 25 laps
#18 Delux 199/200 Laps Lead: 8 times for 50 laps
#24 Simms 199/200 Laps Lead: 1 time for 3 laps
#99 Domotec 199/200 Laps Lead: Did not lead
#27 Aniro 177/200 Laps Lead: 1 time for 2 laps
#14 Baker 174/200 Laps Lead: Did not lead
#88 Fastman 164/200 Laps Lead: 1 time for 3 laps
#33 Mjay 153/200 Laps Lead: 1 time for 1 lap
#16 Fsv 70/200 Laps Lead: Did not lead
Most Laps Lead: Lanz
Halfway Leader: Burnout
Lap Leader Summary
1-10 Lanz (10)
11-19 Delux (9)
20-24 Burnout (5)
25-32 Lexx (8 )
33-34 Aniro (2)
35-39 Lanz (5)
40-42 Simms (3)
43-44 Lanz (2)
45-47 Lexx (3)
48-68 Lanz (21)
69 Delux (1)
70-72 Lanz (3)
73-75 Delux (3)
76 Burnout (1)
77-84 Delux (8 )
85-90 Burnout (6)
91-92 Delux (2)
93-101 Burnout (9)
102-104 Lanz (3)
105 Burnout (1)
106 Mjay (1)
107-113 Lanz (7)
114-116 Fastman (3)
117-123 Delux (7)
124 Burnout (1)
125-127 Lanz (3)
128 Lexx (1)
129-142 Delux (14)
143-144 Burnout (2)
145-161 Lanz (17)
162-163 Lexx (2)
164-169 Delux (6)
170-172 Lexx (3)
173-182 Lanz (10)
183-184 Lexx (2)
185-200 Lanz (16)
Lead Changes: 35
Caution Summary
10 Cautions for 36 laps
1. 9-13 Fsv stopped on backstretch (5 laps)
2. 18-23 Mjay wrecks Lexx hard in Turn 2 (6 laps)
3. 31-34 Large crash Turn 2 Burnout and Mjay (4 laps)
4. 39-41 Aniro stuck to backstretch wall (3 laps)
5. 43-46 Burnout, Aniro crash in backstretch (4 laps)
6. 67-69 Aniro spin off Turn 4 into frontstretch grass (3 laps)
7. 90-92 Domo crashes into Aniro while lapping (3 laps)
8. 103-105 Lexx disconnect Turn 4 (3 laps)
9. 108-110 Lexx disconnect backstretch (3 laps)
10. 160-161 Mjay divebomb, Burnout Wallstick (2 laps)
Standings After Race:
Photo Story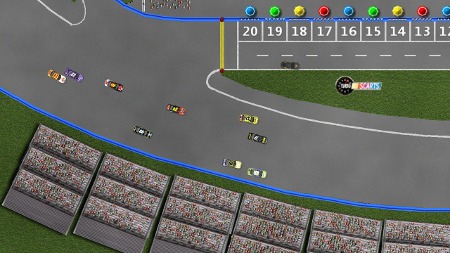 Lanz #46 and Burnout #9 make up the front row at the start of the race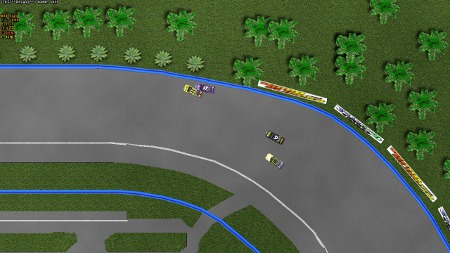 Mjay #33 crashes Lexx #17 into the Turn 2 wall to cause the second caution of the race on lap 18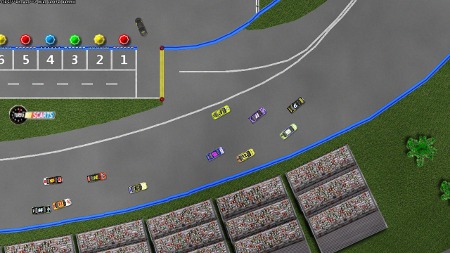 The field races into Turn 1 on a restart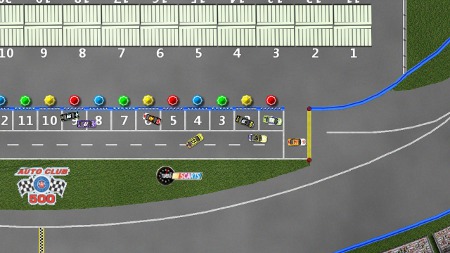 Pitroad action under caution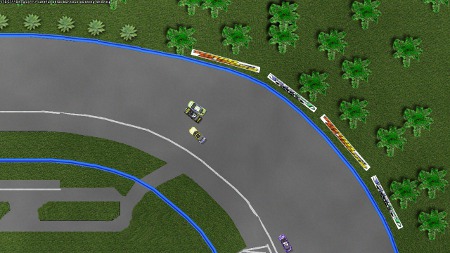 Lanz #46 makes an awesome 3 wide move to take the lead from #18 Delux and #9 Burnout on lap 125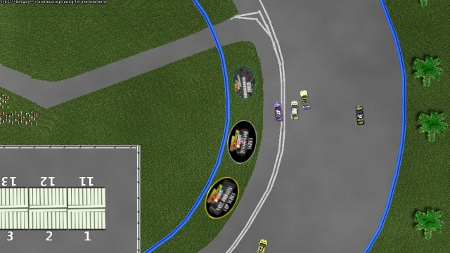 Lexx #17 goes 1 step further a few laps later when he passes 3 cars in 1 turn for the lead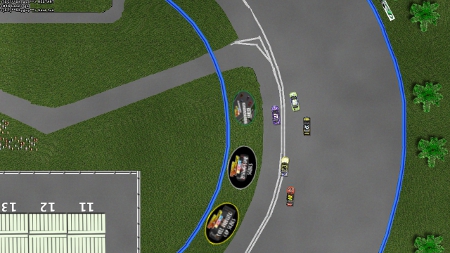 Lexx #17 once again makes a strong move to take the lead, this time on the apron on the final restart of the race (lap 161)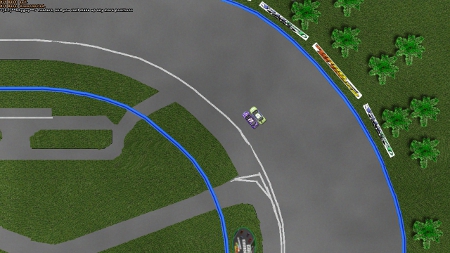 Lexx #17 and Lanz #46 battle hard over the final laps for the win at Auto Club!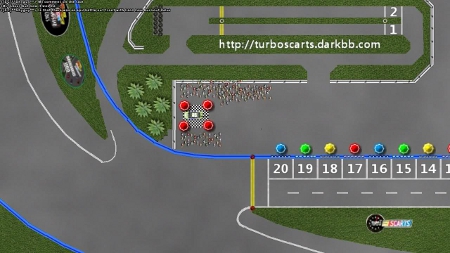 Lanz #46 celebrates his second victory in a row in the Turbocharged Series, going to victory lane at Auto Club!