Arsen scores a big victory in the Daytona 500 for his first SCARTS Turbocharged Cup Series win! Rookie, Josefe edged Burnout for 2nd place.
Coming up, is our first Intermediate track race at California (Auto Club) Speedway. Last year, there was a photo finish between Burnout and Dore! This was our second "0.000 MOV" in the history of SCARTS, but this one was even
 closer than the previous finish at Bristol between JonnO and Szymek in 2013. Video replay confirmed that Burnout did in fact defeat Dore by a mere pixel and was thus declared the winner.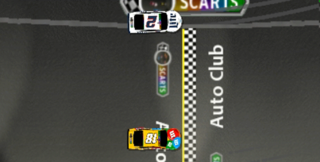 Can Arsen keep his momentum going into California?
Find out this Tuesday!
RACE #2 @ CALIFORNIA
===============
When: Tuesday, April 3rd @ 21 GMT
Race Length: 200 laps (400 miles)
2017 Winner: 
 Burnout
Last edited by Burnout on Sun Apr 01, 2018 5:02 pm; edited 1 time in total