The 2018 SCARTS Turbocharged Cup Series begins in early March and here you can choose which car and team you want to run during the cup.
Below is a GIF depicting each car created for the year (it'll be updated as more paints are made) to help you choose the car you want.
In the chart, I have highlighted in GREEN cars that are confirmed claimed for the season.  In YELLOW, are cars kept reserved for players that used the car last year but have yet to confirm keeping that number.  I am only locking cars that have been run by a driver in 6 or more races in 2017.  Should a new number be chosen, or not in time for the SCARTS Shootout, the reserved car numbers become available.
As you make a confirmed selection, your name will be added to the rear rainbow stripe on your car(s) to mark them as your own for the year!
PAINT SCHEMES: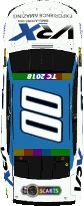 Sponsors in (Parantheses) are expected paint schemes that have yet to be released or created.
(This list is subject to change and/or update!)
BK RACING (Toyota)
#23 - SmartWater
CHIP GANASSI RACING WITH FELIX SEBATES (Chevy)
- DC Solar / McDonald's - Shyguy
#42 - Credit One
FRONT ROW MOTORSPORTS (Ford)
#34 
-
K-Love / (Love's Travel Stops)
#38 - Speedco
FURNITURE ROW RACING (Toyota)
#78 - (5-Hour Energy) / Bass Pro Shops
GERMAIN RACING (Chevy)
#13 - Geico
GO-FAS RACING (Ford)
#32
HENDRICK MOTORSPORTS (Chevy)
#9 - (Hooters) / (Kelley Blue Book) / NAPA Auto Parts
- Axalta / (Liberty University) / UniFirst - Simms
#48 - Lowe's Pro Services
#88 - (Axalta) / Nationwide Insurance
JOE GIBBS RACING (Toyota)
#11 - FedEx
- (M&M's Caramel) / Skittles Sweet Heat / Snickers Almond - Dore
- Arris - Magnam
 - DeWalt / Circle K - Laf
JTG DAUGHERTY RACING (Chevy)
#37
#47 - Kroger Clicklist
LEAVINE FAMILY RACING (Chevy)
- Procore / (WRL Contractors) - Arsen
RICHARD CHILDRESS RACING (Chevy)
 - (American Ethanol) / DOW - Mailo
#31 - Cabela's
RICHARD PETTY MOTORSPORTS (Ford)

 - Click-n-Close / STP - Delux
RICK WARE RACING (Chevy)
#51 - Haas / CNC
ROUSH FENWAY RACING (Ford)
#6 - Advocare
#17 - Ford
STARCOM RACING (Chevy)
#00 - VRX Simulators
STEWART-HAAS RACING (Ford)
 - Busch Plaid / Jimmy Johns - Szymek
#10 - Smithfield
#14 - Rush Truck Centers
#41 - HAAS Automation / (Monster Energy)
TEAM PENSKE (Ford)
#2 - (Alliance Truck Parts) / (Discount Tire) / Miller Lite / (Wurth)
 - Dex Imaging / Duracell-Menards - Burnout
#22 - (AAA) / Shell-Pennzoil
WOOD BROTHERS RACING (Ford)
- Motorcraft / Menards - Josefe
Last edited by Burnout on Fri 23 Mar 2018 - 12:16; edited 20 times in total